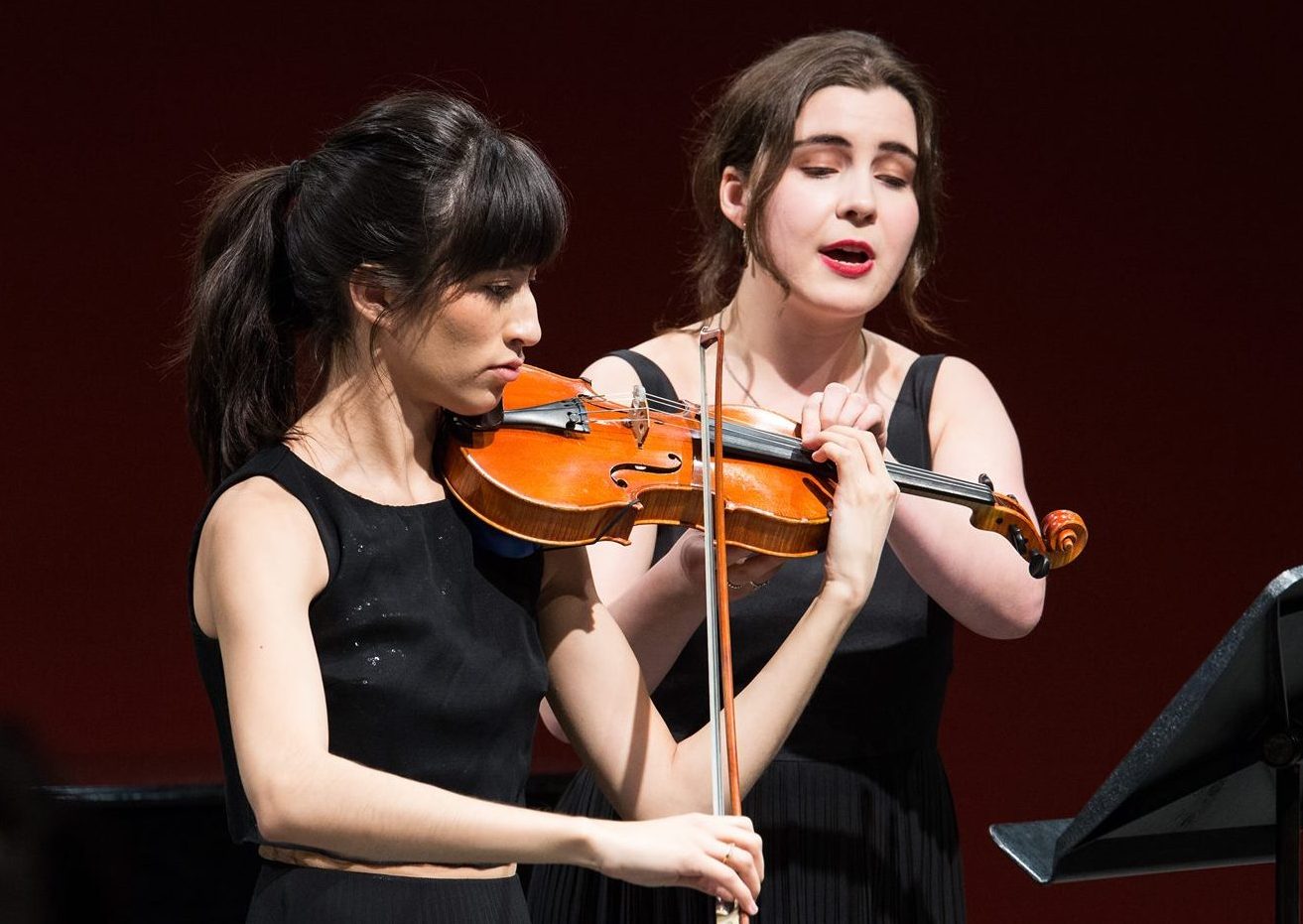 Violinist/violist Lena Vidulich is an adventurous and multi-faceted performer based in New York City. Hailed as "slashingly relevant"1 by New York Music Daily, she is able to move fluidly between the worlds of orchestral music, rock, jazz, improvisation, musical theater, and new music. Lena has a particular interest in alternate tuning systems, theatricality and physicality in performance, and multiphonic techniques. A committed advocate of new music described as a "magnet for world premieres,"1 Lena has worked with composers including Zosha Di Castri, Nina C. Young, Reiko Füting, and Esa-Pekka Salonen, among others.
Lena is the violist of earspace, a Raleigh-based ensemble creating multi-sensory performances; violist of Quartet121, a string quartet dedicated to the performance of new works; and is co-artistic director of Amalgama, a New York septet dedicated to the synthesis of improvisation and contemporary classical music. She also regularly performs with groups such as Talea Ensemble, Danse Theatre Surreality, and the Louis Moreau Institute for New Music. Interested in the study of early music, Lena also plays baroque violin with the New York Continuo Collective.
Lena has been a member of the Spoleto Festival USA Orchestra and the Lucerne Festival Academy. She has also participated in festivals such as Banff's Evolution of the String Quartet, Bang on a Can, the Meadowmount School of Music, the Orford Festival Academy, and the Northwestern Summer Violin Institute. As an orchestral musician, she is a substitute member of Symphony in C, was an associate member of the Civic Orchestra of Chicago, and has performed in many ensembles, including the Chicago Youth Symphony Orchestra, the Chicago Composers Orchestra, and the Orchestre des Universités de Paris. Lena also performs in musical theater, including Single Rider (Off-Broadway), the New York Music Festival run and demo recordings of Generation Me, and the concert debut of MCubed at the Craterian Theater (Medford, OR). She has worked with such esteemed conductors as Riccardo Muti, Heinz Holliger, Alan Pierson, Jeffrey Milarsky, and Matthias Pintscher, and has performed in concerts across the U.S. and internationally in venues such as the Elbphilharmonie (Hamburg), National Sawdust (New York), and Orchestra Hall (Chicago). Lena has played in solo and chamber master classes for Grigory Kalinovsky, JACK Quartet, Fred Sherry, Paul Kantor, Cyrus Forough, Mauricio Fuks, William Van der Sloot, Blair Milton, Vadim Gluzman, and the Pacifica Quartet.
Lena holds a Bachelor of Music in performance with a minor in French from Northwestern University, where she studied violin with Gerardo Ribeiro and chamber music with the Dover Quartet, Desirée Ruhstrat, and Mathias Tacke. She graduated summa cum laude from the Bienen School as a recipient of the Undergraduate Award for Outstanding Academic Achievement. Her undergraduate education also included studies with Alexis Galpérine at the Conservatoire national supérieur de musique de Paris and Université de Paris 8 – Vincennes-St Denis. Lena received her master's degree in contemporary performance at the Manhattan School of Music, where she studied violin with Curtis Macomber. She is a violin instructor for Soyulla Artists and maintains a private teaching studio in New York City.
Lena is also an AmSAT-certified teacher of the Alexander Technique, teaching privately and also serving as Associate Faculty at the American Academy of Dramatic Arts. She trained at the Riverside Initiative for the Alexander Technique, studying with second-generation teachers Nanette Walsh, Caren Bayer, and Lori Schiff. Visit here to learn more.
Click here for short bio.