Varo String Quartet (Carmen Abelson and Hannah Christiansen, violins; Lena Vidulich, viola; and Isidora Nojkovic, cello) is dedicated to the celebration and expansion of the string quartet genre. Through intentional programming, VSQ engages new audiences and collaborators with a spirit of curiosity and innovation. The members of VSQ have backgrounds spanning many genres and have performed with groups including Milwaukee Symphony Orchestra, Thurman Barker & the Cagy Bird Orchestra, Lyric Opera Orchestra, Japanese Breakfast, Ensemble Dal Niente, Music Theatre International, and Chicago Sinfonietta. Varo String Quartet takes its name from the Surrealist painter Remedios Varo, whose vibrant creativity and lifelong pursuit of discovery inspire the Quartet's inventive programming and spirited performances.
Sign up for our newsletter!
Please send all inquiries to varostringquartet [at] gmail.com
---
---
October 27, 2023 | 7:30pm
Varo String Quartet presents their debut concert at the historic Rosehill Cemetery with an evening of haunting melodies and intriguing sonic landscapes. Audiences will experience the evocative music of Dmitri Shostakovich alongside innovative works by Ha-Yang Kim, Lee Hyla, and Caroline Shaw. By juxtaposing these diverse compositions, Varo String Quartet invites listeners on a journey of musical transformation that will illuminate new facets of both the well-loved and the unknown.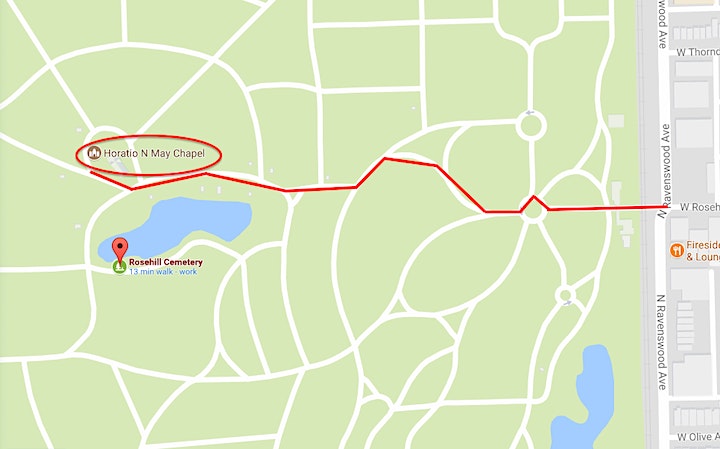 Friday, October 27, 2023 at 7:30pm
$10 online or at the door
Horatio N. May Chapel at Rosehill Cemetery
5800 N Ravenswood Ave, Chicago IL
Parking available along any cemetery roads.
The Chapel is about 10 minutes walking from the entry gate on N Ravenswood and Rosehill Drive.
Please note the Chapel has some small steps and is not fully ADA accessible.
Program
String Quartet no. 3 | Lee Hyla
Threadsuns, mvmt 1 | Ha-Yang Kim
String Quartet no. 7 | Dmitri Shostakovich
Ritornello 2.sq.2.j.a | Caroline Shaw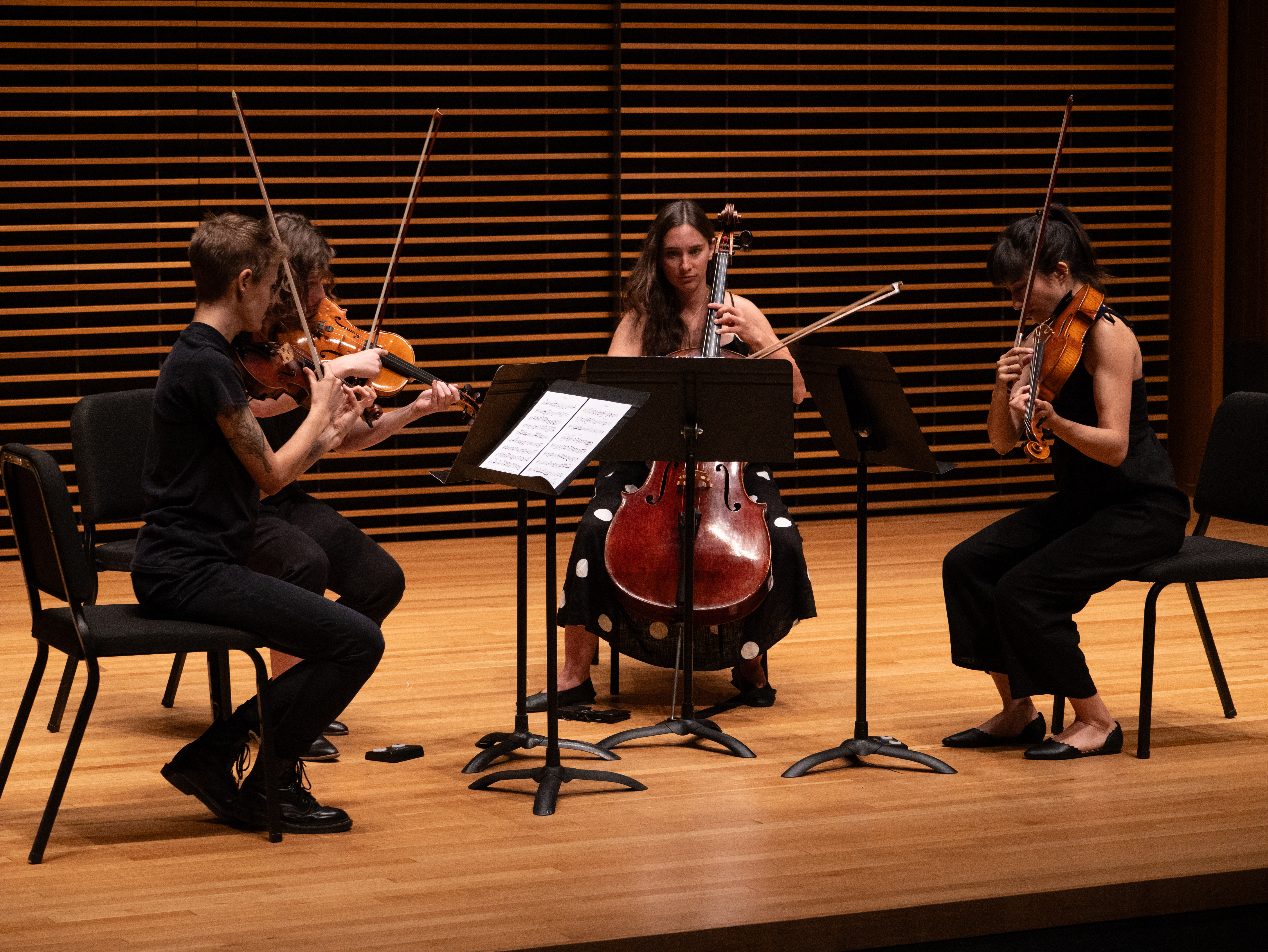 ---
Violinist Carmen Abelson (she/her/hers) works throughout the Chicagoland and Midwest areas as an orchestral, chamber, and solo performer and music educator. Currently assistant principal 2nd violin of the West Michigan Symphony and a tenured member of the Illinois Symphony and Philharmonic Orchestras, Abelson is also a core member of 5th Wave Ensemble, a collective dedicated to the performance of works by womxn and non-binary composers, and a teaching artist at The People's Music School. As well, Abelson teaches violin as adjunct professor at the University of Illinois at Springfield and at Glenbard East high school, and maintains a private studio. In addition to her work in classical music, she performs in the family band "Susan and Sons" with her mother and sister and with the Bristol Busk 'n' Frolic at the Bristol Renaissance Faire.
Regarded as an "inventive conversationalist" (Chicago Classical Review) on her instrument, violinist Hannah Christiansen has performed with groups including Ensemble Dal Niente, the Milwaukee Symphony Orchestra, the Ulster Orchestra (Belfast, NI) and the International Contemporary Ensemble. Hannah's particular interest in nonstandard notation and extended technique has led her to residencies at Northwestern University, Princeton University, and Roosevelt University; she has also guest lectured on extended techniques for the violin at the University of Chicago. With percussionist Joe Bricker (Cincinnati Symphony Orchestra), Hannah designed and runs From Scratch, an education program to introduce young musicians to contemporary music early in their careers. Hannah holds a degree in French Language and Literature from Oberlin College in addition to her violin studies at Oberlin Conservatory, Northwestern University, and DePaul University, and her major teachers are Milan Vitek, Gerardo Ribeiro, and Janet Sung.
Violist Lena Vidulich is an adventurous multi-instrumentalist based in Chicago. A tireless advocate for new music, she is also able to move fluidly between the worlds of orchestral music, rock, improvisation, and musical theater. She is a founding member of earspace and has performed with groups including Talea Ensemble, Ensemble Dal Niente, and Contemporaneous. Lena holds a Bachelor of Music in violin performance from Northwestern University with additional studies at the Conservatoire national supérieur de musique de Paris and Université de Paris 8 – Vincennes-St Denis. She received her master's degree in contemporary performance at the Manhattan School of Music. Lena is also an AmSAT-certified teacher of the Alexander Technique and has served on faculty at the American Academy of Dramatic Arts (NYC), the Riverside Initiative for the Alexander Technique (NYC), and Alexander Technique Training in Chicago.
Praised for her "great control" (Chicago Classical Review), cellist Isidora Nojkovic is an active soloist, chamber, and orchestral musician. She has a passion for contemporary music and commissioning, having premiered over 50 works, and is one half of the contemporary violin/cello duo Orbit ("the new cross-continental duo to pay attention to." – Classical Post). She performs regularly with the Lyric Opera of Chicago, Vancouver Opera, Vancouver Symphony, Illinois Symphony, Vancouver's Turning Point Ensemble, and the Lucerne Festival Contemporary Orchestra. She has also completed two tours with Lincoln Center Stage, performing in twenty-two countries as part of a piano quintet.
---